When I began building the first Hummingbird IFT (internal frame technology) rack/pannier systems in 2003 and 2004 I saw them as completely new and revolutionary types of gear-carrying systems for an advanced form of bicycle touring that revolves around an ultra-lightweight approach and methodology. Their very unique, extraordinarily lightweight (ultra-stable panniers at 18 ounces per pair and tubular steel racks under nine ounces) and innovative designs mark a severance with conventional touring products and methods, and even with my own highly evolved RBD panniers built during the 1980s and 1990s. Their performance is simply in a different dimension. The Hummingbird racks and pannier designs are all about moving forward into a new future in bicycle touring that revolves around a much more fluid, efficient and flexible form of bicycle travel.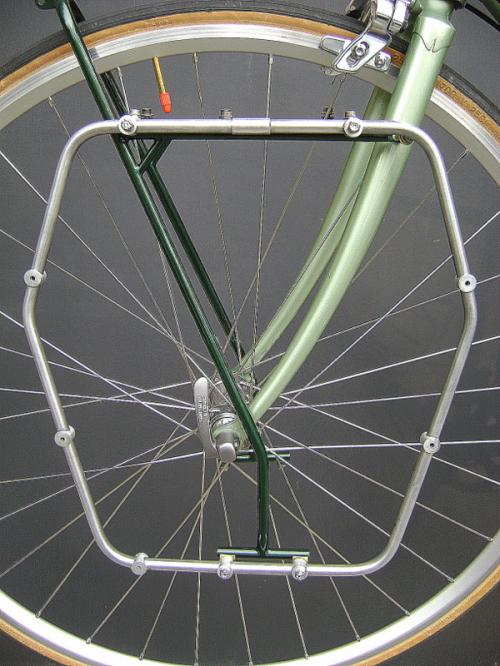 The Hummingbird IFT rack/pannier systems reflect very advanced designs that are based upon my own systematic methods of bicycle travel, which I began developing over forty years ago to simply make bicycle riding within touring much easier and more enjoyable. The long-term empirical refinement of my methods has culminated formally in the Advanced Touring Method and my latest Advanced Touring Systems products. The high-performance products set the method into motion and establish a new realm of possibilities in bicycle travel.

After experimenting with, and refining the Hummingbird IFT systems over the course of a few years, I developed a recognition of their full potential and I began to exploit it by first creating a very extensive new line of ultra-lightweight panniers for a very wide range of racks that I do not build, the Hummingbird RP panniers. In the RP models I duplicated every detail of the Hummingbird IFT panniers with the exception that I replaced the internal frames with very lightweight dual- and triple-relieved aluminum plate stiffeners. The RP models are a very high-performance hybrid of the latest Hummingbird IFT models and my Europa UL and World Tour UL panniers created in the mid-1980s, which I have been building in purely customized versions during the past couple of decades.

So exceptional is the performance of the Hummingbird IFT pannier designs that, starting in 2009, I began to incorporate their design elements into hybridized, very lightweight custom versions of all of my EL and Discovery pannier models. Today, every Hummingbird IFT design feature, excluding aluminum internal frames, may be included in the design of all EL and Discovery panniers. Also, within the past few years I have incorporated all that I have learned from the development of the Hummingbird racks into two other separate lines of lightweight racks. All of the new, highly evolved rack designs (Hummingbird, RD/EX Hybrid and Expedition Hybrid) are available as Advanced Touring Rack products.