All ATS Hummingbird IFT Pannier models are custom-made, and are designed as part of integral systems with Hummingbird IFT Racks, in three basic designs (single-lateral compartment, dual-lateral compartments and a modular version of the dual-lateral design). Each of the designs, or models, is made in two different lengths: a 14-inch version and an 18-inch version. Each model may be built in a front-pannier version or to fit a rear Hummingbird IFT rack, and within each custom-built design the depth of lateral compartments is variable. For instance, in the single-lateral design (SLC model) the depth of the compartment may be as wide as five inches or as narrow as two, as in a very low-profile front pannier. Changing the depth of compartments is simply a way of adjusting the carrying capacity of each pannier model to meet specific touring requirements in an individual way for each customer.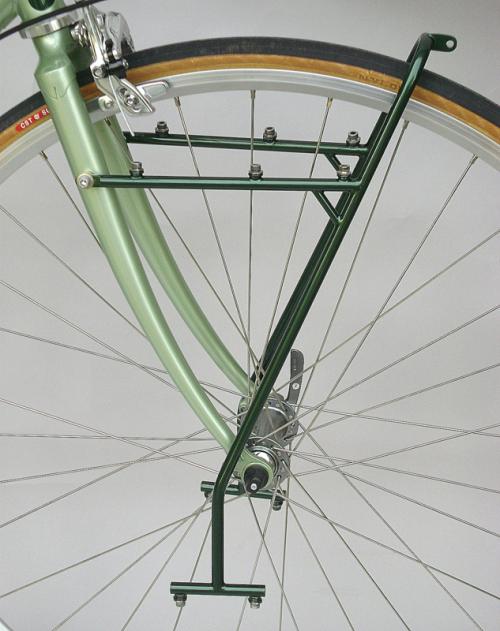 The primary fabric of the panniers is 2.4 oz. is a durable, solution-coated ripstop nylon. Three different reinforcement fabrics are also used. In the areas of the panniers that require the greatest fabric strength, such as in reinforcing the area underneath the pannier carrying handles, 7.5 oz. 500 denier Cordura nylon is used. The rear side of the panniers is constructed of a specially laminated 4.4 oz. Oxford nylon that is not only super-waterproof, but is also air-impermeable under high pressures. A 3.4 oz. Oxford nylon is used in the bottom of the panniers, which is also an area that requires more abrasion resistance. (As in all ATS and RBD panniers, custom fabrics are available and the location of fabric types is variable in each model, upon request.) The standard zipper size used in the construction of each model is a 5mm YKK coil. The zippers in all Hummingbird IFT Panniers are sewn in reverse. That is, they are sewn in place with the zipper coils facing inward, leaving zipper coils unexposed to external wear and abrasion. For individuals that prefer a heavier zipper, the panniers are also available with 7mm and 9mm YKK zips.

Pannier weights are highly variable, relative to how each individual model is ultimately custom-built. 14" SLC models are the lightest in weight, starting at about 18 ounces per pair. The largest and heaviest of all the Hummingbird IFT models, the 18" Modular Transit Panniers (3,000 cu. in. capacity), weigh in at about 30 ounces per pair.