I wanted to develop a line of panniers that reflects the very highest levels of performance found in my the Hummingbird IFT rack/pannier systems, and at the same time that are available to fit a wide variety of racks. It was important to me that the panniers contain all design elements (excluding internal frames) that are part of the highest levels of quality and refinement in the Hummingbird IFT models, while being at the same time very affordable to many bicycle tourists. The latest versions of my Hummingbird RP panniers are an excellent representation of these two goals. The Hummingbird RP pannier models are very economical (compare them with other panniers in the $200 to $400 range) and you'll find that in any direct, detail-for-detail comparison, that all other panniers lack all of the crucial designs and all of the functional refinements of the Hummingbird RP panniers. The RP models simply perform at a level that is in a completely different dimension than that of any other pannier.
The Hummingbird RP Pannier line is extremely versatile for all types of touring and provides, by and extremely wide margin over other panniers non-ATS and RBD panniers, the best performance-to-weight ratios of any panniers in the world. The RP versions of Hummingbird panniers are designed like, in almost every detail, the IFT versions of the Hummingbird panniers Basically, other than their shape, in that they have a relieved-plate stiffener opposed to an internal aluminum frame and in that they are built for a wide range of racks and utilize several different types of mounting systems, they are completely alike in the most crucial details. They have been developed as an ultra-lightweight pannier to fit racks other than ATS Hummingbird IFT racks, and are designed to be an extremely high-performance option to bicycle tourists that use their own racks (non ATS) in a lightweight pannier/rack system. Several RBD four-point mounting systems have been adapted to the Hummingbird RP panniers to rigidly mount them to a wide variety of racks on the market (Gordon, Jandd, Tubus, Blackburn, Topeak, Nitto, Old Man Mountain and many other brands). The Hummingbird RP design is very unique in today's pannier market, but the design goes back a long way.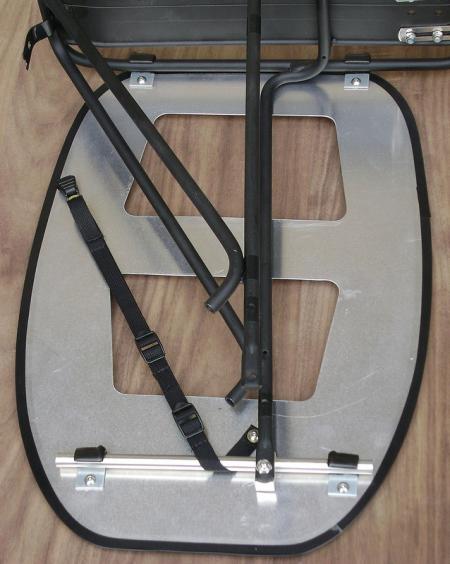 In 1985 I developed ultra-lightweight versions of my Europa and World Tour models and embarked on a long journey into the design of highly specialized gear for high-performance bicycle touring. An important design feature of those panniers, and one essential in creating panniers that were then (as well as now) very lightweight, were their unique dual-relieved aluminum-plate stiffeners. The high stability in the four-point mounting systems of the panniers (single- and dual-strap four-point systems for Gordon racks back in 1985) allowed the removal of fairly large pieces (in two die-cut holes in the plates) of the pannier stiffeners to eliminate significant weight in the panniers without reducing too much stiffness from the plates that could adversely impact the mounting stability or the effectiveness of the compression systems in the panniers. Both of my original ultra-lightweight panniers, the Europa UL and World Tour UL models incorporated lightweight fabrics and zippers, and overall were quite lightweight. In 1985 they were very unique panniers that were decades ahead in their design and in that they had extremely high performance-to-weight ratios, but I sensed that there were numerous possibilities yet to discover that would yield more refined performance. That was correct.

A lot has changed. There have been numerous material possibilities in recent years. New, more highly specialized fabrics have become available. Much lighter webbing came my way. I found much better fasteners. Advances in materials have changed the way my ultra-lightweight panniers perform. But the wide increase in performance between the models in the past and the Hummingbird RP panniers of today isn't just about materials, it's also about design. As is so often the case, it is the careful execution in the details of design that add up to a much higher level of performance.

It was my goal, in developing the latest Hummingbird RP panniers in 2011 (their design was also updated in 2005), to advance the performance of ultra-lightweight panniers with dual- and triple-relieved plate stiffeners as far as they can possibly go: the most advanced four-point mounting systems, the most flexible and comprehensive gear-loading designs, the lightest and most advanced dual- and triple-strap compression systems, and the most refined execution of each and every other detail of design, no matter how small. For the latest Hummingbird panniers I developed new four-point mounting systems with wider hook spacing to allow the aluminum plate stiffeners to be more heavily relieved, and lower in weight. Special featherweight adapters were designed so that the panniers can be mounted, with a very high-performance four-point mounting system, on all touring racks. I incorporated a newly designed, canted pannier bottom, with a special featherweight support plate that greatly reduces the need for, and the weight of, parametric stiffeners. The overall height of the panniers was increased to 16" and 18", from 14" so that each pannier model could be made narrower relative to its size and carrying capacity. The compression systems in the panniers are now half the weight of what they once were and at the same time, more effective.

Overall, to the very smallest details, the evolution continues. Today, the latest Hummingbird RP panniers are far more advanced in every element and detail of design, yet only one half or even a third the weight of other panniers on the market of a similar size. I have designed the Hummingbird RP models to fit virtually all racks and for all bicycle tourists that want to experience bicycle touring in a new and exciting way at the highest levels of performance.