"Bob Beckman makes the finest bicycle-touring gear available."

(Adventure Cyclist Magazine
As I have built and refined my Hummingbird gear during the past decade, it has changed how I perceive the designs of all of my other racks and panniers, and their designs have evolved as the Hummingbird designs have evolved. My other styles and models of racks, consequently, have become much lighter in weight and now may include integrated triangulation struts as common feature. The rack shapes changed, more shapes are available in each model and dual triangulation in the racks has become steeper. In essence, as the design of all of my racks have evolved from the influence of Hummingbird designs, they have become hybrids. The rack that has evolved to the greatest degree is the RD/EX Hybrid Mid/High-Mount Front rack. It is now built in many new configurations, but the basic design and concept of the rack's performance still revolves around flexibility and versatility, rigidity and pannier stability, craftsmanship and an extremely high performance-to-weight ratio. This ratio has improve as I've developed new forms of these racks that place their weight down into the 18 and 19-ounce range.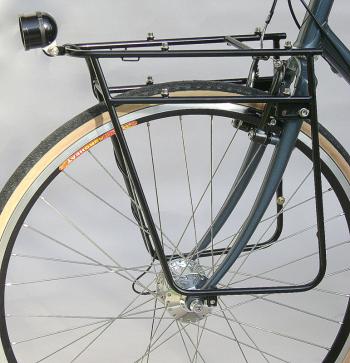 The Mid/High rack is available with two vertical pannier-mounting positions. The high-mount option is essentially the tandem or expedition version (for proper pannier ground clearance with 18" panniers) in which panniers are mounted about an inch above the bicycle wheel. The mid-mount position places the tops of panniers about three inches lower. The rack can also be purchased with a dual mount in which panniers can be mounted in either position. The Mid/High is now offered in two sizes, one for bicycles with 26-inch wheels and the other for bicycles that have 700c or 27-inch wheels.

Originally the Mid/High Front rack featured an attachment design in which the rack was bolted directly to a bicycle fork near the top of the fork's blades (271mm above the fork tip eyelets). This method of mounting the upper part of the rack, due to it's direct connection with no flexible stays or fittings, is very rigid. I still use this method of attachment when somebody sends me their fork and I apply proper brazed-on fittings. I can also mount the rack to low-mount fittings, and I have, but I prefer not to as they are too far below the top of the rack. Currently, when a fork has only low-mount fittings, I mount the rack to the back side of the fork crown, or uni-crown, using the Pivot-Mount attachment mechanism, which functions in conjunction with a specially designed, custom-made fitting that I attach to the crown. I also offer the RD/EX Hybrid Mid/High front rack in a custom-fit version in which the Pivot-Mount is eliminated and the top platform of the rack is extended directly to another type of custom fitting that is attached to the rear side of the crown. Both the custom-fit option and the Pivot-Mount version of the RD/EX Hybrid rack is extremely rigid.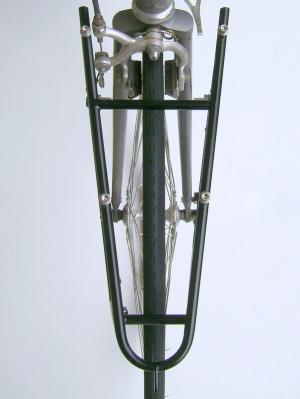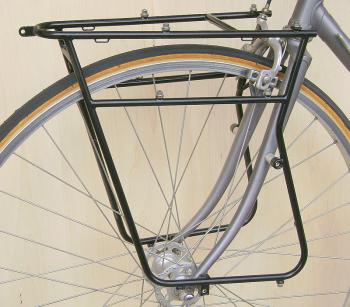 The RD/EX Hybrid Mid/High Front rack is designed for all types of touring, from lightweight road (the "RD" in RD/EX stands for road) touring to tandem and expedition touring. At about 20 to 22 ounces (when it is built for short panniers and has an additional, lower-hook mounting tube in the side platform) it is lightweight, but it is also exceptionally strong and rigid and provides the highest levels of rack/pannier mounting stability outside my own Hummingbird IFT racks and panniers. It is designed for use with ATS Hummingbird RP and RBD Discovery Hybrid pannier models with either the Pivot-Lock or modified Ultra-Lock mounting systems. As with all Advanced Touring System racks, the Mid/High Front rack may be ordered with many custom options which include an extremely wide array of setups for lighting systems (single head lamps, double ones, lights that pivot and swivel etc.), integrated mounting systems and strap guides and with many finish options which include the standard black powder coat finish as well as custom paint to match frame finishes. Tri-chrome plating is also an option.

Base price of the RD/EX Hybrid Mid/Mount Front Rack in a system with RBD panniers: $1195
This dual-triangulated rear rack is designed for bicycle tourists that are looking for a rack that performs superbly and that represents highly refined craftsmanship within a design that is a step above one reflecting an absolutely minimalist approach. The design, while not being quite as lightweight as ATS Hummingbird racks, is still quite lightweight at about 20 to 22 ounces. Its immaculate fillet-brazed construction is unrivaled, and its design, including integrated four-point mounting systems, exceptional rigidity through dual triangulation, the unequaled Pivotmount attachment mechanism, strap guides, superb performance-to-weight ratio and other features place it completely within its own its own level functionally and aesthetically. It is a rack that is quite flexible in its design, relative to performance, and was developed for all types of touring above and beyond ultra-lightweight touring.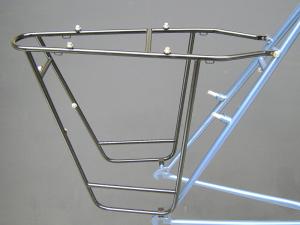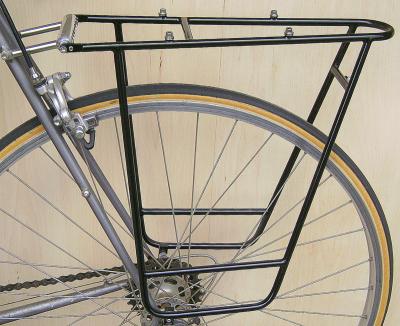 In my role as a custom builder it's my responsibility to my customers to afford every possible advantage within the designs of my products. Flexibility is always in order and consequently I build the RD/EX Hybrid Rear rack in many ways. One such alteration of its basic design relates to how panniers, in a four-point mounting system, are mounted to the bottom of the rack. There is a horizontal tube set up about two inches from the bottom of the rack. For all 14" and some 16" pannier models, it must be there and is used to mount the lower hooks or fittings in a mounting system. But it may be removed, as a non-essential part of the rack, when it is built for 18" pannier models, and the absolute-widest spread of mounting hooks or fittings isn't critical in how the rack and panniers will be used. When removed, the weight of the RD/EX rack is cut down to about 17.5 ounces in the version that is custom-fit to a bicycle frame. 17.5 ounces is extremely lightweight for this type of rack in that it has a very long top platform, is very rigid and affords extremely stable pannier mounting.

The RD/EX Hybrid Rear rack may be set up with an integrated Pivot-Mount mounting system, the Ultra-Lock system, or most commonly, with a hybrid form of the Ultra-Lock system in which hooks are mounted to the bottoms of panniers and brass fittings are used at the top. Whatever the system, RBD panniers will be mounted in a much more stable and secure way than with any other pannier. As with all ATS mounting systems, panniers cannot be removed from a rack without a special tool. Such a design is meant to discourage the possibility of casual theft. It's just another feature that makes these racks vastly superior to all others.

Base price of the RD/EX Hybrid Rear Rack in a system with RBD Discovery Panniers: $1295